I thought I'd start sharing some great recipes with you! Th

is

first one is new to my family. It's one I've been testing in my kitchen. We'll see if 3 different tweakings is the perfect fit

...
It started out as two different recipes that I found

here:
Jim

&

Nick's Cheesy Biscuits
Red Lobster Cheese Biscuits (I did not originally f

ind

it here...I first saw it on Facebook and shared it to my timeline and printed it out and several people even commented on it....now, it

has

disappeared--so can't really give cre

dit.)
Anyway....
Dawn's Cheesy Biscuit Loa

f
3 cups flour
1 T baking pow

der
1 heaping tsp. salt
1/8 tsp. cayenne pepper
1/8 tsp. black pepper
3 T Sugar
1 1/2 cups grated Colby/Monter

ey Jack cheese
1 1/4 cups

whole milk
1/2 cup sour cream
3 T melted butter
1 egg
Heat ove

n to 350 degrees.
Grease 9 x 5 loaf pan.
Mix dry ingredients in a bowl including the cheese. Mix wet ingredients in a different bowl. Then, add liquid ingredients to the dry ingredients and mix thoroughly. Do not overmix. Pl

ace in loaf pan and bake for 50 minutes.
We waited 10 minutes and dug in! Enjoy!
Please comment when you make this and let me know what you think. Also, if you made any changes. I love seeing what others li

ke!
I just linked this post to the Weekend Potluck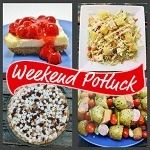 Click the box and go find some more yummy recipes.
I also linked up

here:
There are some great posts on this blog and all the ones linking up. Grab some coffee and go look at the Farm Girls and all they have to offer. Thanks for

joining us!!
D

awn