I am making this all the time! Good thing it's so easy! Now, the hardest part about this recipe is telling you how I make it. Cuz I'm really notorious for not measuring! :0) Just a shake of this and a dab of that...that looks about right.
So....I'm going to do my best to tell you how I make this. As you can probably tell, it tastes different every time I make it. But, it's always good.
Unless we don't have any cilantro. And, then it's only mediocre. I mean, what is salsa without cilantro, right?
Salsa
1 29 oz. can diced tomatoes (can't wait until I have my own canned tomatoes to use in this!)
1/2 large onion
2 T minced garlic
fresh cilantro
1/2 jalapeno or more depending on how hot you like it
2 tsp. black pepper
2 T Cumin
red pepper (a small shake)
white pepper (a large shake)
Turmeric (a medium shake) optional
Throw it all in the blender until blended well. If we are eating it right away...I just let the blender go for a while as I cook the meal. This helps it to blend and get the flavors popping!! And, we keep the bag of chips (On the Border are the best!) close by and keep tasting it. You know, that way we know if we need to keep tweaking it. :0)
It's always better/hotter the next day.
I did make this batch with the turmeric and that's why it has the orange-y look to it. In case you don't know--turmeric is bright yellow.
Give it a try and let me know how you like it! I'm expecting some comments about this one. Everybody loves salsa, right?!!!
Thanks for stopping by!
Dawn
I linked up here:
and here: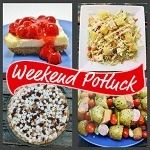 and here: