BACK TO SCHOOL

....
what does that bring to mind?
Lots of kids congregated together in small spaces
drinking/eating after each other
yep, that about sums it up.
Unless, you homeschool like we do! But, there's still the...
WalMart trips
church
sports activities
music lessons
playdates with friends
So the above mentioned yuckies still apply! :0(
and germs ABOUND!
So, what's a mom to do? Well, this mom, in case you haven't noticed....uses essential oils!
My two favorite items to have around in situations like this....pretty much all year....but, especially fall/winter is my

Germs Aside

and Sonshine Hand Sanitizer.
Everybody can benefit from these blends...public school-ers and homeschool-ers alike!
We use these every day...several times a day.
I make up roller bottles of fractionated coconut oil and Spark Naturals Shield Blend and Wild Orange to rub on the bottoms of our feet--this is our

Germs Aside

. We do this at bedtime and when we get dressed in the mornings and, after we homeschool if we have to go on errands. My 2 yr. old, Judah calls it "tickle" and we giggle and laugh since it does tickle as you rub it on your feet. I also just rub on my hands and pat on everyone's hair and clothes before we leave.
Here's my "recipe":
Germs Aside
6 drops Shield
4 drops Wild Orange
Fill 1/3 oz. roller bottle with fractionated coconut oil

We use Sonshine Hand Sanitizer all the time while we are out. We get back in the van after each stop and pass the bottle around. My 2 yr. old begs for it, too!!
Sonshine Hand Sanitizer
6 drops Shield
4 drops Lemon
3 drops Grapefruit
2 drops Lavender
2 drops Cinnamon
Put drops in 1 oz. spray bottle and fill with witch hazel
or you could double the recipe and put it in this 2 oz. bottle from Spark Naturals.
These blends are antibacterial, anti-fungal, anti-viral, and anti-septic!
All of these essential oils and the Shield Blend can be purchased at Spark Naturals including the 10 ml roll on bottles and spray bottle.
Don't forget to use code "sonshine" for a 10% discount!
Here's to happy, healthy schooling!
Thanks for stopping by,
Dawn
Clever Chicks Blog Hop #49
101st Wildcrafting Wednesday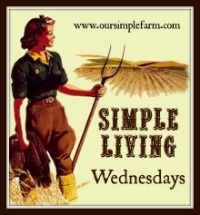 103rd Wildcrafting Wednesday